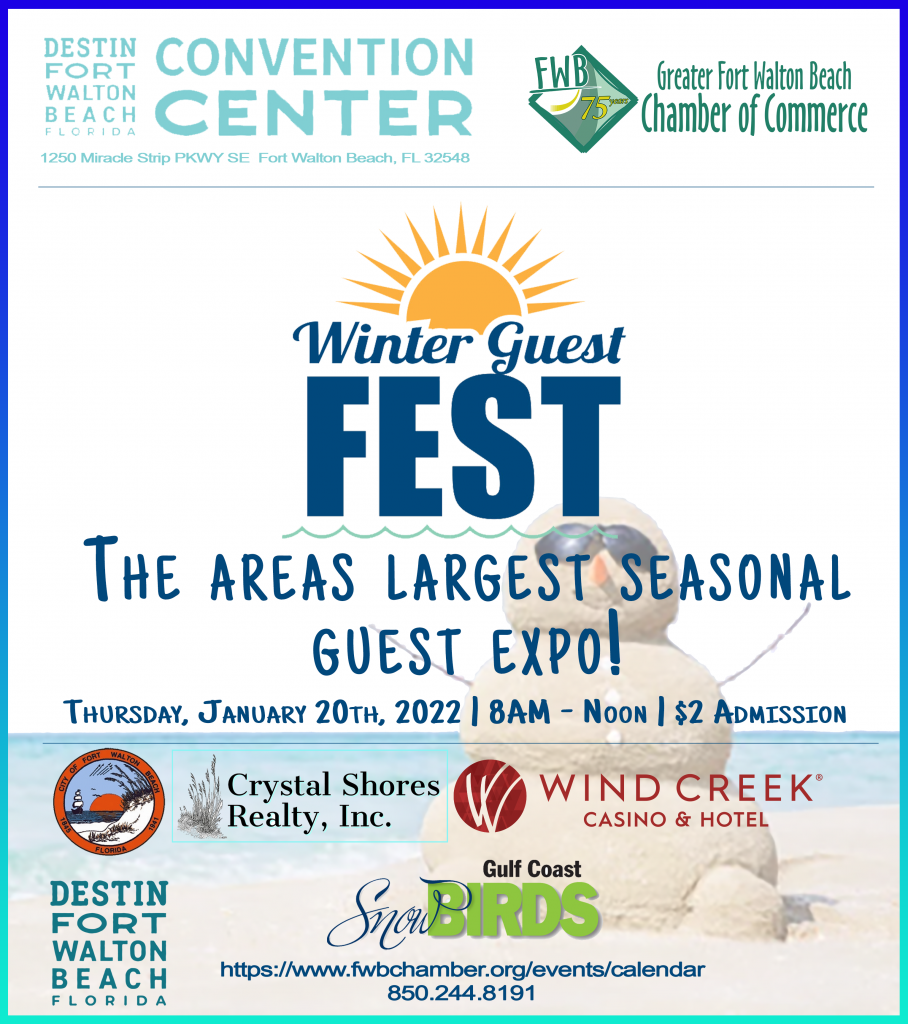 ************************************************************************
January 22
Fort Walton Beach High School Air Force Jr. ROTC presents a Pancake Breakfast at Magnolia Grill on Saturday, January 22nd from 7:30 am to 10:00 am. The event benefits Air Force Enlisted Village, hosted by Magnolia Grill, 157 Brooks Street SE, Fort Walton Beach
************************************************************************
January 28 – February 6
Emerald Coast Theatre Company stages the off-Broadway comedy hit, "Miss Abigail's Guide to Dating, Mating & Marriage. The audience participates in this hilarious variety show. The show opens Friday, Jan. 28 and runs through Sunday, Feb. 6. Performances are Thursday, Friday, Saturday at 7:30 p.m. with 2:30 p.m. Sunday matinees Jan. 30 and Feb. 6. Tickets are $33 per person for adults, $31 for seniors (55 years-old and up)/military and $27 for students (must show ID). To purchase tickets call (850) 684-0323 or visit www.emeraldcoasttheatre.org.
************************************************************************
February 4
Sound the trumpets! Freedom Brass, the U.S. Air Force Band of the West's brass ensemble, will make its regional debut when it presents a live performance at Warriors Hall on Feb. 4.
What: Freedom Brass concert
When: 7 p.m. Friday, Feb. 4
Where: Warriors Hall, Whitehurst Municipal Building, 201 Stillwell Blvd., Crestview
How much: Free
Notes: A reception at Warriors Hall follows the U.S. Air Force Band of the West's brass ensemble's Crestview performance.
Freedom Brass is stationed at Joint Base San Antonio-Lackland, Texas. The ensemble is generally comprised of two trumpets, French horn, trombone, tuba, and percussion, but for its Crestview concert, two more musicians will be added.
************************************************************************
February 12
Don't miss the Pancake Breakfast, hosted by Magnolia Grill, 157 Brooks Street SE, Fort Walton Beach to benefit Pryor Band on Saturday, February 5th from 7:30am to 10:00am
************************************************************************
February 12
The Air Force Armament Museum Foundation will host an evening "to die for" with All Mobbed Up for Murder, a murder mystery dinner theater, on Saturday, February 12, 2022, at the Air Force Armament Museum, 100 Museum Dr. Tickets for All Mobbed Up for Murder are $50 each and are available at the Air Force Armament Museum Gift Shop. Doors open at 5:45 p.m. with a cash bar cocktail hour from 6 to 7 p.m. Dinner and performance begin at 7 p.m. Proceeds from the event will go towards the Air Force Armament Museum's expansion project. For more information, call the museum's gift shop at 850-651-5253 between 10 a.m. and 4:30 p.m. Mondays through Saturdays.
************************************************************************
February 18
Wine & Fries in partnership with Hotel Effie Sandestin, powered by Step One Automotive Group, features the iconic McDonald's french fries paired with the perfect wine for a party with a purpose. Enjoy sipping wine, indulging your inner child with fries, and bidding on auction items, all in an effort to continue keeping families close at Ronald McDonald House.

Wine & Fries will be held on Friday, February 18th on the incredible Ara Rooftop Pool & Lounge located at Hotel Effie Sandestin (1 Grand Sandestin Blvd, Miramar Beach, FL 32550) from 6pm-9pm. Tickets are $100 each. You can purchase tickets online by visiting rmhc-nwfl.org/wineandfries. This is a 21 and over event.
Wine & Fries will feature a wine tasting and menu catered by Hotel Effie Sandestin, and of course, McDonald's french fries, donated by Costa McDonald's. During the night, guests will have the chance to bid on auction items, sample a selection of wines, and kick off their 2022 in style while partying for a purpose.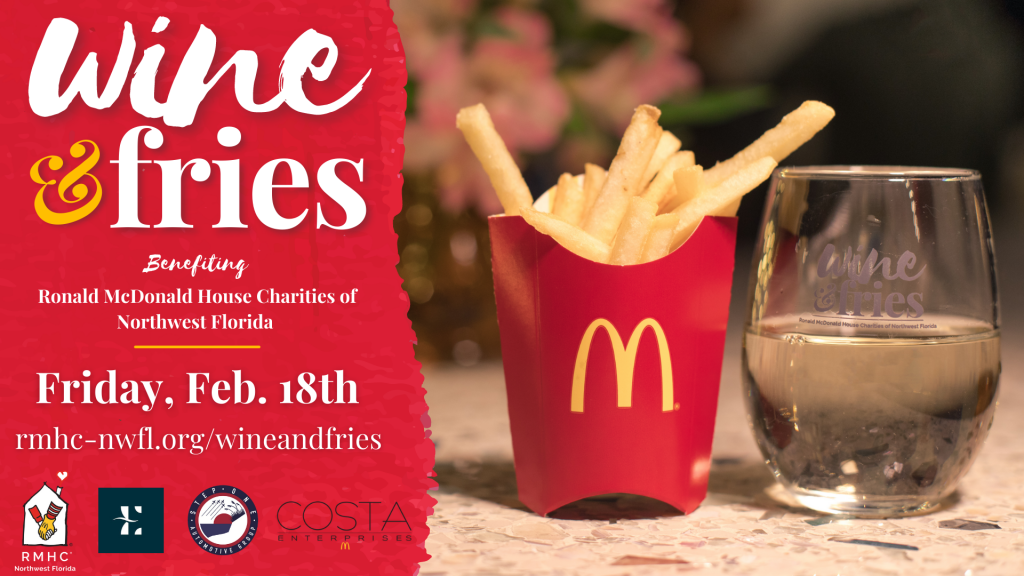 March 12
It's fun. It's easy. And it will help the one in nine American adults with chronic kidney disease live richer, fuller lives. It's the National Kidney Foundation Kidney Walk on March 12th in Pensacola, FL. Bring your friends, family and co-workers and help raise money to support local kidney health education, early detection screenings and kidney research. Take the first step. Call the National Kidney Foundation of Florida at 800-927-9659 or log on to www.pensacolakidneywalk.org. That's Pensacolakidneywalk.org. Love Your Kidneys. See their poster here.